Our campers have learned a lot from our junior golf exposure camps over the years. Many of our campers have gone on to experience great success. Discover what our CGC alumni are up to now!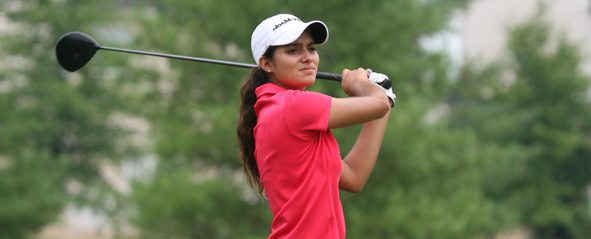 Featured CGC Alumni: Ana Ruiz
University of Oklahoma's Ana Ruiz is one of many College Golf Camp alumni making an impact in College Golf.
Ana is from Chihuahua, Mexico. She is currently a sophomore at Oklahoma. Her personal low 18 hole score in college is 70, which she has shot 3 times including the NCAA San Antonio Regional last Spring. Read more
Other College Golf Camps Alumni
Blaine Hale |

 

Dallas |

 

Texas |

 

Freshman |

 

University of Oklahoma |  

Info

Brad Dalke |

 

Hobart |

 

Oklahoma |

 

Freshman |

 

University of Oklahoma |  

Info

Tanner Gore |

 

El Paso |

 

Texas |

 

University of Texas |

 

Arlington |  

Info

Andrew Priest |

 

Houston |

 

Texas |

 

University of Texas |  

Info

Gaby Amos |

 

Gainesville |

 

Florida |

 

Freshman |

 

University of South Carolina |  

Info

Camilo Avia |

 

Bogota |

 

Columbia |

 

Freshman |

 

University of Texas |

 

Arlington |  

Info

Sam Schwartz |

 

San Clemente |

 

California |

 

Freshman |

 

University of Hawaii |  

Info

Grant Booth |

 

Sydney |

 

Australia |

 

Sophomore |

 

University of Nevada |  

Info

Pablo Matesanz |

 

Irun |

 

Spain |

 

Sophomore |

 

San Diego State University |  

Info

Kavan Canekeratne |

 

Southborough |

 

MA |

 

Sophomore |

 

University of San Diego |  

Info

Ashley Lonergan – Scottsdale |

 

AZ – University of Nebraska
Clayton Feagler |

 

Laguna Niguel |

 

CA – Pepperdine University

Noah Steele – Canada – Sam Houston State University

Sam Warkentin – Bainbridge Island |

 

WA – University of Washington
Vickie Kwak |

 

Tallahassee |

 

Florida |

 

Freshman |

 

Oglethorpe University |  

Info



Austin Cotton |

 

Austin |

 

Texas is currently a Freshman at Baylor University |  

Info

Zac McCurday |

 

Jacksonville State University
Derek Ackerman |

 

University of Santa Clara
Brent Rodgers | Cranberry Township | PA | Robert Morris University | 

Info

Cake Phuchanbanchob | Thailand | California State Northridge | 

Info

Erica Olberding | Iowa | UNC | Ashville

Allison | Iowa | William & Mary University

Kika Dzoan | Tracy | CA | MSU | Denver

Samantha Bennett | Wake Forest | NC | Limestone College

Jasmine Chee | China | Western Michigan University

Katie Kirkhardt | Oklahoma | Oral Roberts University

Aaron Tobin | Temple University

David Choi | Babson College
Turner MacLean | Ft. Worth | Texas | Freshman | Texas Christian University | 

Info

Tate Smith | Stetson University | 

Info

Coleman Houston | Midland College

Matt Corio | New Mexico State University

Mateusz Kucz | Poznan | Poland | Sophomore | University of California | San Diego | 

Info

Myla Brown | Sioux Falls | South Dakota | Minnesota State | 

Info

Chris Koza | Tallmadge | Ohio | Malone University | 

Info

Ethan Smith | Edmond | Oklahoma | Oklahoma Christian University | 

Info

Cody Troutman | Edmond Oklahoma | Central Oklahoma University | 

Info

Casey Paul | Owasso | Oklahoma | Northeastern State University | 

Info

Josh Rinehart | York | PA | Penn State | 

Info

Michael Duch | Aberdeen | SD | South Dakota State University | 

Info

Chase Ambrose | Houston | Texas | Texas State University

Lindsay Bain | Wylie | Texas | Centenary University | 

Info

Quincy Ballard | Aledo | Texas | DePauw University | 

Info

Jesse Bratz | Colleyville | Texas | UC Davis | 

Info

Taylor Chaffin | McKinney | Texas | University of North Texas | 

Info

Aramina Flores Corpus Christi | Texas | William Penn University | 

Info

Nicolas Vanegas | Bogota | Colombia | Jacksonville State University | 

Info

Alexander Goodman | Polk City | Florida | West Virginia University | 

Info

Levi Grogan | Canton | NC | Mars Hill University | 

Info

Luke Groan | Canton | NC | Mars Hill University | 

Info

Kaitlyn Ellis | La Quinta | CA | Fresno State University | 

Info

Ellen Takada | Irvine | CA | University of Washington

Devyn Solano | Aurora | CO | Oral Roberts University | 

Info

Ryan Hicks | Santa Monica | CA | Loyola University | 

Info

Michael Boylan | Patterson | NY | Denver University | 

Info
Jake Quast | Ashland | OR | Dominican University | 

Info

Michael Perez | Sacramento | CA | Saint Xavier University | 

Info

Elijah Pittser | Huntington Beach | CA Whitworth University | 

Info

Adrian Lee | Sydney | Australia | University of Hawaii | 

Info

Jordan McBrayer | Carlsbad | CA | Regis University | 

Info

Nick Rivera | Seaside | CA | Dominican University | 

Info

Sera Tadokoro | Hilton Head | SC | University of Central Florida

Connor Alexander |

 

High Point University
Charles Wang |

 

Northwestern University
Marra Burton |

 

Furman University
Makena Mucciaccio |

 

Central Oklahoma University
Brennan LeBlanc |

 

Lynn University
Errol Clarke |

 

Virginia Commonwealth
Dylan Deogun |

 

Mercer University
Jacob Appleby |

 

Marshall University
Travis McInroe |

 

Baylor University
Hannah Valentine |

 

McNeese State University
Mason Weld |

 

Sam Houston State University
Maddie Zack |

 

Oakland University
Jake Hendrix |

 

University of New Mexico
Logan Smoak |

 

Southern Nazarene University
Ryan Graf |

 

Simon Fraser University
Sterling Smith |

 

Washington & Lee University
Tyler Dierwechter |

 

Stetson Universit |  

Info

Trey Wren |

 

Temple University
Lee Hammerschmidt |

 

Lehigh University
Aaron Walker |

 

Samford University
Gavin Hogan |

 

Furman University
Sam Warkentin |

 

University of Washington
Kaho-Monica Matsubara |

 

Singapore |

 

Freshman |

 

Northwestern University |  

Info

Hays Moreland |

 

Memphis |

 

Tennessee |

 

Freshman |

 

University of Cincinnati |  

Info